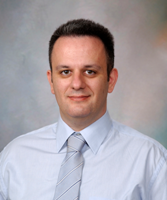 George C. Kagadis
Contact details
Department of Medical Physics School of Medicine, University of Patras GR-265 04, Rion Greece
Email
Research topics
The 3DMI research group is a team of people performing research in the fields of medical image processing – analysis, and Monte Carlo simulations for radiation dose optimization. To this direction our group is extensively using the GATE tool for imaging apparat modeling, optimization of imaging and therapy protocols, etc. To the present our group is engaged in few national and international research projects using Monte Carlo simulations (GATE toolkit and Geant4 code) in terms of investigation and optimization of both nuclear medicine imaging and dosimetry applications.
The most recent projects we use the GATE tool at, are:
- POPEYE: 'Personalized Optimization of Prognostic and thErapeutic protocols with Lu-177 for MNETs, through the development of advanced computational tools and a portable detection sYstEm' sponsored by ERA PerMed Joint Transnational Call for Proposals (JTC) 2019 on "Personalised Medicine: Multidisciplinary Research Towards Implementation" (PI); 05/2020 – 04/2023.

- H2020-MSCA-RISE-2014 ERROR: 'A pEdiatRic dosimetRy personalized platfORm based on computational anthropomorphic phantoms' sponsored by HORIZON 2020 €432,000 (PI); 01/2016 – 12/2019.